People are getting more creative every year when it comes to hacking IKEA furniture. It's no wonder since IKEA makes the most versatile pieces within its price range. By customizing your furniture, you make it personal, which will make you want to keep them longer. With 12 million tons of furniture ending up in a landfill each year, you're not just making your home beautiful, but you're also doing the environment a favor by hacking IKEA furniture.
We gathered the best IKEA hacks so far in 2020, and we hope it will inspire you to give your IKEA furniture a second chance.
Creating a home office with lots of storage by hacking Billy from IKEA
DIY queen Jamie, the blog Southern Revival creator, used mixed sizes of Billy bookcases from IKEA to make built-in bookcases. Not only did she create a lot of storage, she also added a cozy seating area on one of the walls. To give the bookcase that built-in look, she added MDF panels and molding. For more details of how to create this home office heaven, head over to Jamie's blog.
Moody lightning with a twist of the Sinnerlig pendant 
This is the fastest (and most affordable) hack on our list! The bamboo pendant lamp called Sinnerlig at IKEA has the perfect shape and size, but you might want to spruce it up a bit and give it a little more of an edge. That's where the spray paint comes into the picture. It can be painted in any color, like in this stunning example in black found via Your DIY Family.
Functional and natural cane doors media console using Besta TV stand and cabinets
Create a unique media console using the Besta TV stand and cabinet frame as a base. By adding cane doors to the TV stand, you can hide unwanted media equipment since sound and signal travel through the weave. Match the frame of the cane doors with slab doors in the same color (Silver Sage), and accessorize with brass hardware and legs for a luxe look.
Hacking Eket to get the perfect sideboard for narrow spaces
Sometimes it's as easy as adding new hardware and a wood top to transform an IKEA piece. That's what Gloribell, creator of Know How She Does It, did when she found that IKEA's Eket was the perfect width for her dining room (9 7/8"). She connected three cabinets and put a wood top over the whole piece to create a unified look. 
Woven 
canvas straps + Tarva frame = modern headboard
Mariana Cotlear has a lot of smart solutions in her small but super stylish Washington apartment. Among others is this headboard, which she created by placing canvas straps in a woven pattern on her Tarva bed frame. It can't be much more budget-friendly than that!
Using dowels to transform the most-hacked IKEA furniture of the year -- the Ivar cabinet 
Charlotte Wahlberg is the genius behind the Scandinavian Grey, and if you want Scandinavian design inspiration -- this is the blog to check out. There are many versions of hacked Ivar cabinet circulating the net, but this might be the chicest! Adding wood dowels on the IVAR doors and legs in matte black made this IKEA piece look custom, Nordic, and expensive.
Dowels dowels dowels... on a Docksta Table from IKEA make it looks like an expensive designer piece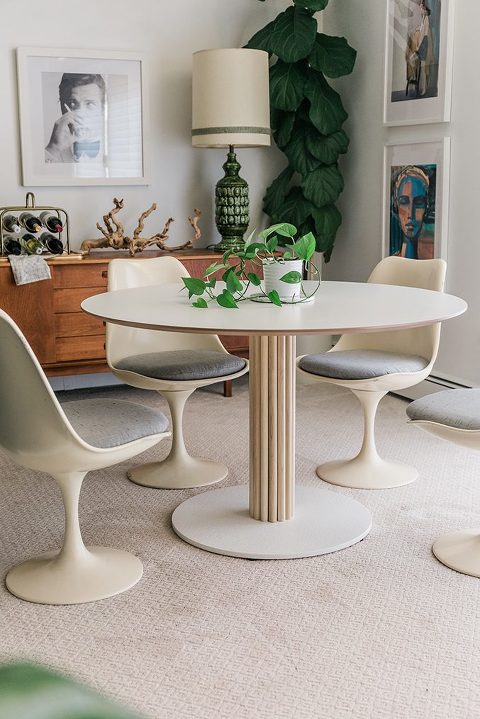 Carrie Waller, at Hunker, gave this round pedestal table a reversible upgrade by attaching wood dowels along the center stand using adhesive tape. By using tape, the addition can easily be removed and replaced by another hack in the future. The Billsta table has never looked better!
If you have a clever IKEA hack that you want us to feature, send us an email with the details. 
----------- 
You might also like: IKEA products you can customize with Norse Interiors.