If you're looking to create an airy feeling in a room, mounting IKEA Besta cabinets to the wall is a great option! It makes cleaning easy and even allows you to create additional storage space underneath. IKEA also always recommends attaching all units to the wall for safety reasons, so you can't go wrong with making the Besta a floating unit.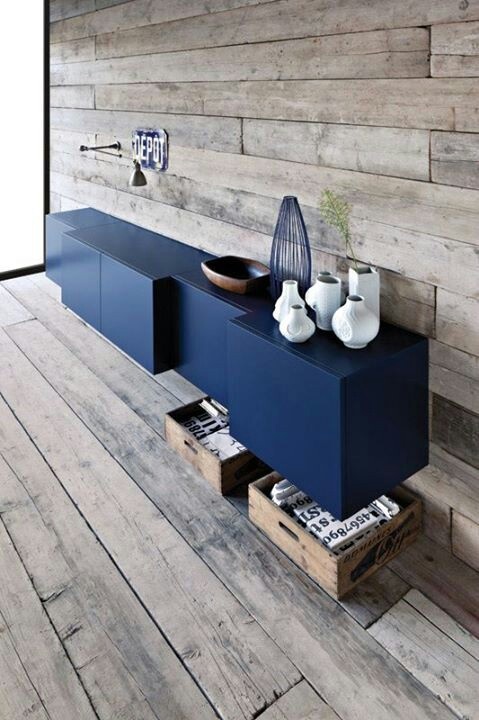 Blue Besta cabinets hanging on the wall. Image source: www.digsdigs.com
Attaching the Besta suspension rail 
Mounting the Besta cabinets to the wall is easier than you might think. IKEA sells suspension rails made especially for the Besta, and they have several holes for attaching it directly to a stud.
Besta suspension rail. Image source: www.ikea.com
Start by marking where you want the cabinets to sit. Use a classic level or, even better, a laser level to make sure they will be straight. To measure where to make the holes, without actually having to measure anything, IKEA has a little trick up their sleeve. Flip the rail upside down, and place the rail in the upper corners you previously marked out. Then, mark the holes you will use when attaching the rail to the wall (after flipping it again).
Image source: Assembly instructions from IKEA
If you plan on connecting multiple cabinets, the suspension rails also help to level the units. The rail comes with a connector so that you can easily hang multiple Besta frames next to each other and align them at the same height.
Once the rails are up, you simply hang the Besta cabinets and secure them with the screws and covers included in the package.
Image source: Assembly instructions from IKEA
 

Mounting the Besta cabinets to a drywall
If you're installing floating Besta cabinets on drywall, you need to add drywall anchors first. Make sure you choose anchors that hold some weight, at least 50 lbs. Before you make the hole for the anchor, we recommend pre-drilling a sample pilot hole, which will make it easier to drill the larger hole. Install the anchors on each end of the rail, and also add at least one stud per rail.
Please note that the suspension rail cannot be used with Besta TV stands. 
Floating Besta cabinets with cane doors, sides, and wood top from Norse.
If you are looking for more inspiration on how to customize the Besta, check out our collection with doors, panels, and accessories compatible with IKEA's most popular storage series. If you want help or have questions on mounting or customizing your Bestas, connect with our Design Advisors for a free consultation call. 
----------- 
You might also like Choosing the right storage for your home.